Moving freight is a complicated process that requires massive coordination and logistics. Freight brokers act as intermediaries between shippers and carriers to alleviate both parties of costly freight management tasks.
As the transportation and logistics (T&L) industry continues to evolve, freight brokers often draw attention from industry watchers who question intermediaries' effectiveness. The advancement of technology solutions designed to automate manual tasks and streamline processes exacerbates the question of a freight broker's role and reliability.
According to Goldman Sachs transportation equities analyst Matt Reustle, "New entrants (Convoy, Uber Freight, uShip) are trying to gain market share by offering price transparency, online load boards, and freight marketplaces (akin to shopping for a flight on Expedia) for booking freight."
Reustle continues that technology disruptors are introducing "mobile applications with the goal of disintermediating human interaction in the freight booking and payment process."
This post focuses on freight brokers' current role in freight management and how technology adoption impacts that role. It also examines whether, amidst the changing technology landscape, freight brokers are still relevant.
What Is a Freight Broker?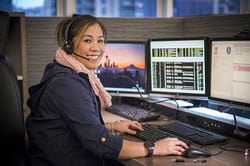 As intermediaries for shippers and carriers, freight brokers provide convenience throughout the freight management process. We posted about freight brokers here, but brokers are responsible for finding carriers, agreeing on rates, and managing the track-and-trace of loads from pick-up through delivery.
Brokers typically have vast carrier networks with more than 10,000 approved carriers and access to various modes of transport, including full truckload, less-than-truckload, rail, air, and specialized equipment. Because of their knowledge and expertise, brokers can reduce the amount of time it takes to manage a load while building a trusted relationship with customers.
Not all brokers are familiar, well-respected transportation intermediaries like C.H. Robinson, XPO Logistics, or GlobalTranz. Unreliable brokers will price gouge customers to drive up their margins. These brokers provide inferior customer service and delay paying carriers to drive up their profits. Relationships are the cornerstone of a strong brokerage, but not everyone values their partnerships.
How Do Freight Brokers Operate?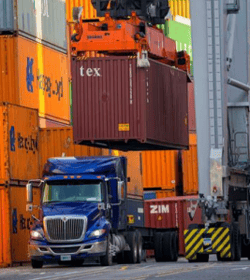 To do their jobs effectively, freight brokers require maximum visibility into real-time data. Shippers want to know that their load will be picked up at Point A and delivered to Point B in the agreed-upon time. Carriers want to know when they can pick up a load and, upon completing a delivery, when they will get paid. The ability to proactively provide relevant information – such as carrier availability and load status – significantly increases a freight broker's value to shippers and carriers.
Surprisingly, despite the complexities of freight management, most freight brokerages still run on manual processes. A 2018 Future of Fulfillment Vision Study found that 55% of respondents are still using pen-and-paper to manage their logistics.
Why Don't Freight Brokerages Invest in Technology?
Many, if not most, do! Decades ago, leading freight brokerages relied on technology platforms developed for in-house use. Rarely did they provide real-time access to carrier data. That technology has evolved to where many freight brokerages rely on proprietary or off-the-shelf transportation management systems (TMS) to run their business.
Albeit an improvement over preceding technology, modern TMS platforms – many of which run through cloud services – still require updates and integrations to keep up with the pace of business.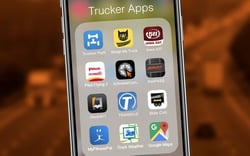 Since freight brokerages inherently run on tight margins, many do not have the financial insulation to make significant technology investments. Some freight brokerages have pursued a one-and-done approach to technology adoption rendering large portions of their investments obsolete as the market grows.
In an article about why digital freight brokers might fail to disrupt the freight brokerage industry, venture capitalist Brian Aoaeh points out: "traditional freight brokers invest relatively more money on people and relatively less on developing proprietary software technology to make individual brokers more productive and efficient. Digital freight brokers invest relatively more capital in developing proprietary software technology to make their brokers more productive relative to their peers at traditional freight brokers."
Modern freight brokerages frequently find a balance, choosing to invest in both people and technology. For example, Armstrong continues to make investments in software tools like Transflo, Parade, and Macropoint, all of which help meet agent owners' evolving business needs.
Capitalizing on a Market Opportunity
High-growth industries – like T&L – that can benefit from process and efficiency improvements are ripe for entrepreneurial influence. Entrepreneurs recognize and attempt to capitalize on existing pain points, like lack of real-time load and rate visibility, operating inefficiencies, and delayed payments for freight brokers, shippers, and carriers alike.
According to FreightWaves, freight brokerage presents "an opportunity for technology disruption and consolidation that has been catnip for venture capitalists, who poured nearly $3 billion into freight tech companies (in 2019)."
The Rise of Digital Freight Matching
Modern TMS platforms (both off-the-shelf and proprietary versions) have helped leading freight brokerages like Armstrong Transport Group make a push toward digital freight matching.
According to third-party logistics (3PL) market research firm Armstrong & Associates, digital freight matching aims to match shipper demand (the need to transport a product) with carrier supply (truck capacity) via digital (web- or mobile-based) platforms usually in the form of apps.
Newer players like Uber Freight and Convoy aim to carve a niche in the transportation-as-a-service (TaaS) market by offering what some refer to as "pure" digital freight matching solutions. Pure digital freight matching aims to apply machine learning and automation to currently manual processes, cutting out the middleman altogether.
Why Freight Brokers Maintain an Essential Role
While pure digital freight management intends to disintermediate – or cut out the middleman – a freight broker's role is unlikely to disappear any time soon.
According to FreightWaves, "the challenge—and the reason why Convoy and Uber Freight still have brokerage floors—remains in operations and exception management."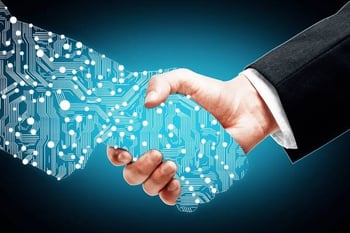 When a process occurs that does not fall within the rules and workflows within a transportation management system (TMS), the process is known as an exception. Given the increasing complexity of supply chains and freight management, exceptions are standard. Automation and machine learning can increase efficiencies around recurring exceptions, but new or unique exceptions happen all the time.
For example, brokers frequently use safety ratings to vet carriers. You can read more about how brokers leverage and evaluate safety ratings here. These safety ratings provide more transparency for shipper customers and freight agents looking to book loads with the safest, most reliable carriers.
With a set rating criteria, could technology help automate the vetting process? It appears that because many violations are unique, the vetting process typically requires human engagement to make decisions on scenarios that fall outside of standard rules and workflows built into the TMS.
The size of the T&L industry is another factor bolstering freight brokers' relevance. Many industry watchers view US trucking as two separate industries, "one composed of very large carriers handling high volumes of freight and the other made up of hundreds of thousands of small companies, most of them with fewer than 100 trucks, playing a very different role in the freight marketplace."
Applying disruptive technologies -- especially predictive technologies that aim to eliminate human interaction -- to an industry with this depth and breadth will likely take decades.
Want to Learn More?
Technology will inevitably replace many costly and inefficient manual freight management processes. However, human creativity amid a fierce winter storm, ingenuity applied to a unique or specialized load, and an empathic human connection is currently irreplicable.
Aligning your business with a forward-thinking freight brokerage like Armstrong Transport Group ensures that you will benefit from our ongoing investments in human capital and technology. Our goal is to provide customers with the highest level of services by giving our agent teams the tools they need to be among the most knowledgeable, productive, and service-centric in the industry.
Visit our Technology page today to learn more about how our technology continues to evolve to support our agent teams. Subscribe to our blog to receive updates on the newest transportation, logistics, and technology industry trends.