Whether you are a shipper looking to move goods or equipment, an agent booking a load, or a carrier making hauls, your company's health and future depend on safety.
Statistics show that trucking remains one of the most dangerous occupations in the U.S. annually. The driving behavior of truckers employed by carriers has the potential to impact finances, fuel costs, truck maintenance expenses, and of course safety to others who share the road.
In an industry with more than a million carrier options, the Federal Motor Carrier Safety Administration (FMCSA) assigns individual carriers' safety ratings. These ratings provide more transparency for shipper customers and freight agents looking to book loads with the safest, most reliable carriers.
Assigned Safety Ratings
The FMCSA assigns three ratings: Satisfactory, Conditional, or Unsatisfactory. A Conditional or Unsatisfactory rating indicates the FMCSA has determined that the carrier does not have "adequate safety management controls in place to ensure compliance with the safety fitness standard."A Conditional or Unsatisfactory rating brings questions from shipper customers and freight agents and rate increases or cancellations from insurers and increased attention from regulatory authorities.
Carriers can only receive safety ratings following an on-site investigation called a "compliance review" conducted at the carrier's place of business. New carriers are required to get a compliance review within one (1) year.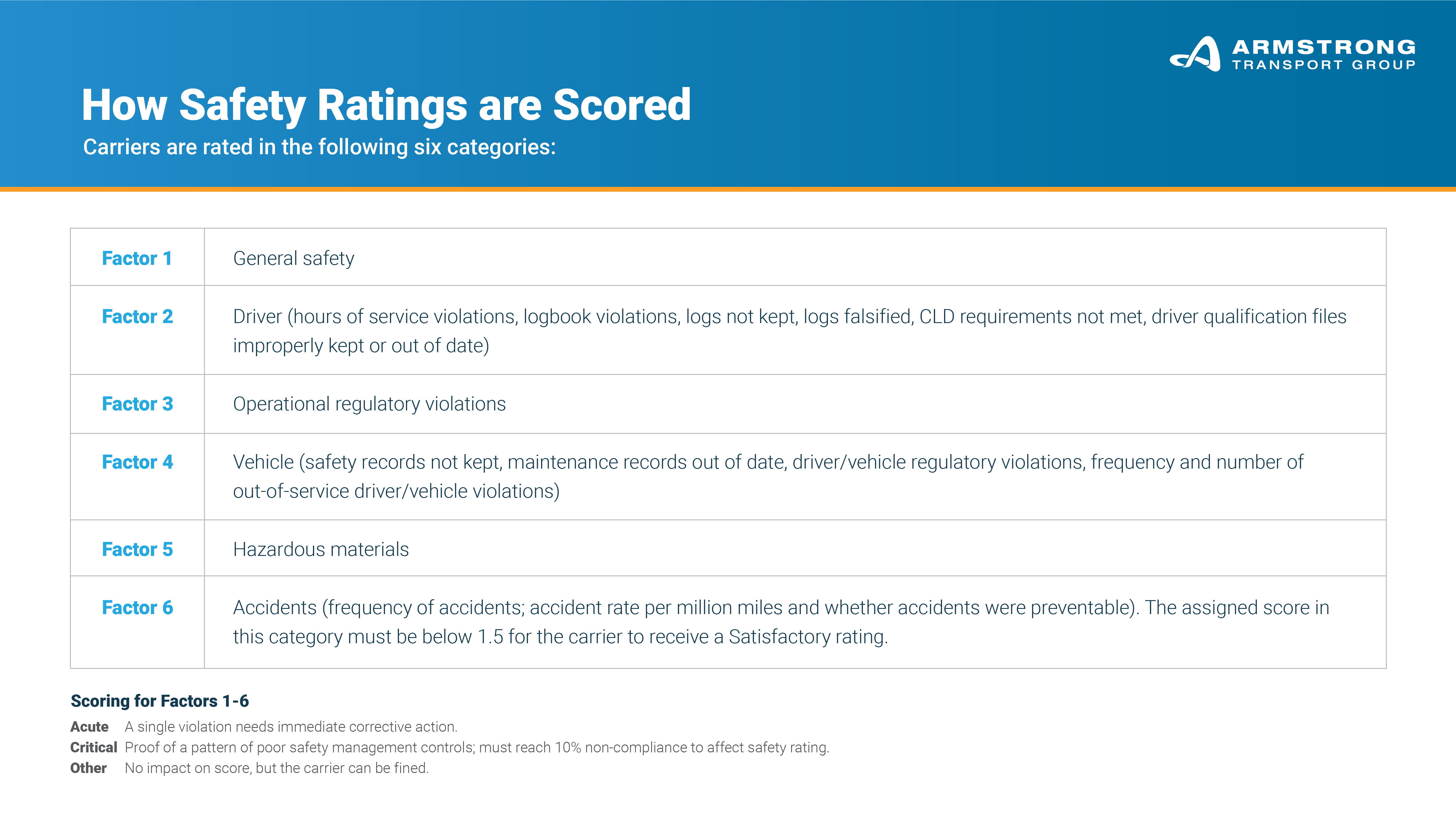 Example of Scoring Accidents
AAA Trucking has had 3 DOT recordable accidents in the past 12 months. They have 15 units (vehicles) and ran 1,750,000 miles in the past 12 months.
3 (accidents) X 1,000,000 / 1,750,000 (miles driven) = 1.714
The total score should be under 1.5 to earn a Satisfactory rating.
If there were no other patterns of violations found, AAA Trucking would still receive a Conditional safety rating because scoring for the Factor 6 category must be below 1.5 to receive a Satisfactory rating.
If upon further review, there were other patterns of violations found (i.e., log violations, drug/alcohol testing, maintenance, etc.), then AAA Trucking would be downgraded further to an Unsatisfactory rating.
If a conditional safety rating is not corrected, a carrier could lose their authority.
Increasing Ratings to Maintain Authority
In order to improve their safety rating, a carrier must make a formal request to the FMCSA to get their safety rating increased. The FMCSA may upgrade a Conditional or Unsatisfactory safety rating to Satisfactory if a carrier prevails in an administrative review proceeding.
To begin the review process, carriers must submit an application to the FMCSA. The carrier's application for review must contain a Safety Management Plan (SMP). The SMP will include the carrier's plan to fix the safety violations and explain what actions are being taken to correct the violation. Examples may include employee training, an increase in staff, or management changes. The SMP must also include an analysis of how the changes will meet the Satisfactory compliance level by the FMCSA long-term.
Generally, it takes 60-90 days for the plan to be reviewed by the FMCSA. A carrier with an Unsatisfactory or Conditional safety rating over a long time is cause for concern. This may indicate that the carrier has not applied for a compliance review with the FMCSA.
How Agents Use and Evaluate Safety Ratings
To access a carrier's safety rating, shipper customers, agents, and freight brokers can search real-time scores through databases like Carrier411, SaferWatch, and RMIS. These tools make it easier than ever to research, qualify, and monitor the insurance, operating authority, and owner-operators and trucking companies' safety ratings.
Many customers require the use of Satisfactory carriers only. To be considered by Armstrong, a Conditional carrier must submit their FMCSA cover letter formally requesting an upgraded score based on corrective action. Armstrong will also request the carrier's SMP to ensure a plan for corrective action is satisfactory to Armstrong. It is the agent's responsibility to understand their customer's particular contractual demands regarding carrier selection guidelines.
Want to Learn More?
It can be difficult through the ordinary course of business – if not impossible – to maintain a perfect safety rating. Maintenance issues crop up, and drivers make mistakes, but prioritizing safety can significantly lower overall costs and minimize impact to your bottom line. Ultimately, no cost of business is worth a human life.
If you have any questions about upgrading an assigned safety rating, please contact Emily M. Chiarizia, Esq. at echiarizia@armstrongtransport.com. Be sure to subscribe to our blog: ATG Fuel for Thought or visit our Learning Center to stay up-to-date with the latest information about Armstrong, logistics, and transportation.