Should I Become a Freight Agent?
Even for experienced individuals working in the transportation and logistics industry, there may be some confusion about what a freight agent is. Various companies and programs promote opening your own freight agency, but what does that mean?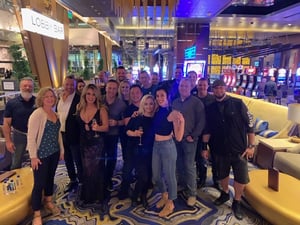 Armstrong Transport Group has been working with an agent-based business model for the last 15 years. At the most basic level, everyone working in sales and operations is a 1099 contractor who owns their own business under the Armstrong brand. With 130 offices around the country, we work with agent offices that consist of one person, up to large offices with more than 100 people.
This article will cover the more traditional route of working as an employee at a freight brokerage or even opening your own brokerage. We then take a deep dive into what a freight agent is, what it takes to be successful, how agents are paid, and things to consider before becoming a freight agent.
Freight Brokerages: The Employee Model
A freight broker is a transportation intermediary, which means they connect shippers with carriers – by land, air, sea, or rail – to move goods.
Becoming a freight broker requires time (generally six to 12 months), industry experience, investments in business equipment, software, and marketing, and meeting the minimum insurance and licensing requirements. Once established, successful freight brokers will often expand their business by hiring salaried employees or by contracting with independent freight agents.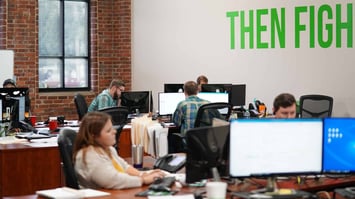 According to Business News Daily, employees are hired to perform specific work at the direction of their employer. Independent contractors, on the other hand, are typically given a job or project to work on without the company controlling when and how they do it.
Working for a large logistics company as an employee has its perks: a steady salary, benefits, commission, and an extensive network of support. In addition, it's probably the best way to learn the industry and develop the skills needed to become successful as a transportation broker.
Brokerages will typically hire individuals with little to no experience, put them through a comprehensive training program, and teach them about the industry. Sales positions within freight brokerages are entrepreneurial by design. Employees are trained and given time to grow a book of business.
Whether it's weeks in a classroom or working on the brokerage floor, there is no better way to get familiar with the industry than jumping on the phone to book trucks and dispatch drivers. Without training and infrastructure, it's hard to get started in transportation. There is a lot to know and learn, from federal regulations to best practices and things to watch out for.
Most employees are content collecting a salary and commission. Until they become successful, that is. Customer-facing logistics professionals spend long hours in the office, make hundreds of cold calls to prospect customers, deal with load issues, and receive that occasional 3 a.m. emergency phone call.
Many brokers who are good at what they do contemplate whether they could earn more. If the margin on a load is $500, they may ask, "Why am I only making 12% ($60) after the customer pays the shipping? Should 88% of the profit go to my employer? Are my customers loyal to the organization I represent or me?"
In an entrepreneurial industry, many successful brokers inevitably want to become business owners and decision-makers. For most, as an employee, there is only so far you can go.
What about starting your own brokerage? The biggest challenge is the barrier to entry. If you don't have the business plan, banking partner, and cash to back you up, then the $75,000 bond, commercial cargo insurance, and cash flow requirements can be daunting. Logistics companies work on tight margins, and most of the cash coming in is going out. It typically takes customers 45 to 60 days to render payment, straining cash flow further.
Carriers may look for perks and assurances to haul for a new brokerage, such as paying in 20 days, paying high rates, and offering low-cost quick pay options. All of these tactics hurt cash flow. As a business owner, you're responsible for not only logistics but all of the accounting and back-office support needed to make the company run.
Freight Agent Programs
What if you want to run your own business but aren't quite ready to create all the required infrastructure? This is where the idea of a freight agency was born. With the agency model, you simply need to set up an office in a location of your choosing (for many, this is a home office) and potentially hire employees if additional support is needed.
Freight agents work for a freight brokerage that supports agent offices. For clarity, we will refer to them as the "parent company." Agents "sell" to customers/shippers and are invoiced by the parent company. For example, ABC Logistics is an agent for Armstrong Transport Group. The customer will receive all invoices and corporate communication as Armstrong, not ABC Logistics.
The parent company provides all back-office support to its agent offices. These tasks typically consist of accounting, collections, claims, legal, marketing, and technology -- anything not related to sales or operations. The agent partner's most important service is issuing credit, invoicing customers, and paying the carriers.
The agent's office will operate under the parent company's authority and utilize their cargo insurance. The parent company will provide transportation management software to create and book loads. The parent company also manages collections, insulates the agent owner from bad debt, and facilitates claims between the customer and carrier.
There are costs associated with this type of agency partnership. The most common model is for the agency partner to offer a split of the gross margin with the agent. Some companies pay a small draw and 30-40% commission while others will offer up to 80% commission. The most standard commission split in the industry is 60% to the agency owner and 40% to the company they are representing. At many companies, there are additional charges for services or posting sites. Always ask about what your agency will be responsible for and what the agent partner will cover.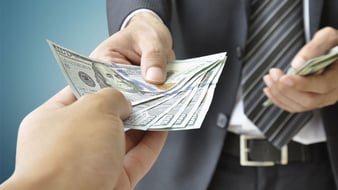 Agencies are paid as 1099 contractors. This type of agreement gives you the flexibility to run your own business in the way that you want. Taxes are not collected and it's recommended to work closely with an accountant or attorney to form a financial plan that works best for your business. (It's easier to pay those taxes quarterly than get hit with a big bill at the end of the year!) In the past, medical benefits have not been offered to 1099 contractors. With the rise of the gig economy, we are seeing this change. Armstrong is proud to offer indemnity health insurance, dental, and vision to our agent owners and their staff.
Top considerations before becoming an agent:
Do you have a portable customer base that will follow you to your new company?
Are you experienced in quoting rates, entering loads, and finding carriers?

Most agents (at least in the beginning) do it all. You do have a resource with your agency partner, but they often don't get involved in sales or operations. Their focus is on the back office: technology, accounting, marketing, and legal services.

Do you have a place and the equipment you need to work?

Typically, all you need to get started is a spare room in your home, a computer, and a phone.

Are you prepared to get paid for exactly what you do?

This can be a scary jump for someone who has been pulling in a steady salary not tied directly to sales.
Are You Ready To Become A Freight Agent?
If you are motivated, organized, and ready to take a chance, opening a freight agency may be the perfect choice for you. It's possible to own your own business without having to spend a lot of money to get up and running. While agency owners have unlimited income potential, they may also have slow times, 'working' vacations, and work many more hours than they did before.
If you're ready to take a chance on yourself or want to find out more about Armstrong, connect with us below. Recognized as a 2020 top 25 freight brokerage by Transport Topics, Armstrong has the credibility, established reputation, and financial stability your customers and carriers require. Our recruiters are available to answer any questions you may have regarding our agent program, our proprietary TMS system, ATGFr8, or the various support and reward perks we offer our partners.
About Lauren Russell
Lauren Russell serves as Armstrong's Chief Marketing Officer. Originally joining the team in 2012 to focus on human resources and recruiting, Lauren recently transitioned to marketing, social media, agent relations, and event planning. She has over 20 years of experience in logistics and transportation.