Which Health Insurance Options Are Available for 1099 Freight Agents?
Logistics | Transportation | Best Practices | Agent Program | Freight Management | Employee Retention | Recruiting
Being a freight agent has many attractive qualities. As an independent contractor (1099), you are your own boss, work remotely, and earn high commissions. There are also downsides, including a lack of health benefits available to you, your sub-agents and/or employees.
Health insurance, and the security of knowing that you and your family are covered in case of an unexpected diagnosis or emergency, is an essential consideration for millions of people. Health coverage has become increasingly significant amid a global pandemic. The majority of individuals in the United States receive health insurance as part of their employee benefits package. Historically, there have been fewer options for 1099 contractors and more recently for those displaced by COVID-19.
Fortunately, health coverage options have started to change with the rise of the gig economy, the Affordable Care Act, and companies looking for ways to retain top talent. As an agent-based brokerage, Armstrong continues to prioritize ways to offer benefits to our contractors. Recently, we found a promising solution through The American Worker.
This post will review the health insurance options available to independent contractors, specifically those designed for the logistics industry.
The Gig Economy
We mentioned the rise of the gig economy – which is what, exactly? Think of a "gig" as a slang word describing a task or project for which a worker is hired; musicians typically use it. In the workforce, gig workers are commonly freelancers, independent contractors, project-based workers, and temporary or part-time hires.
Over the last ten years, the value of flexibility, remote work, and the ability to shift between assignments has grown. Being an independent contractor has become increasingly lucrative to a growing percentage of the U.S. workforce. Logistics and transportation organizations have utilized 1099 contractors for years, from over-the-road drivers to freight agents.
Since independent contractors are not considered employees, they typically don't get benefits like health insurance, sick days, vacation days, or life insurance. So what are the options for this growing category of worker?
Fortunately, there are a few:
Affordable Care Act Plans available through state exchanges.

Employer-sponsored health plans.

Indemnity plans.
We'll review each of the options below.
Affordable Care Act
The Affordable Care Act (ACA), commonly referred to as Obamacare, has provided healthcare to uninsured workers in the United States. Each state has its exchange, offerings, and prices. Currently, over 23 million people are covered under ACA plans. The three mains goals of ACA are:
Reform the private insurance market and make coverage more affordable for individuals and small group purchasers.

Expand Medicaid to the working poor.

Change the overall way that medical decisions are made.
There are some key considerations to keep in mind as you weigh your coverage options:
Open Enrollment Period -- November 1 – December 15 marks the Open Enrollment Period that takes place on these dates annually. Having an Open Enrollment Period assures that people don't just buy health coverage when they are sick. Outside the Open Enrollment Period, you generally can enroll in a health insurance plan only if you qualify for a Special Enrollment Period. You're eligible if you have certain life events, like getting married, having a baby, or losing other health coverage. Plans provide coverage from January 1 to December 31 each year.
Pricing -- Prices vary based on the enrollee's income level. Payments are made monthly and are referred to as your premium. When you begin the application process, the Healthcare.gov system will help walk you through plans that align with your annual income (or best estimate of what that might be).
Choosing a Plan -- Selecting a plan that is right for you and your family can be confusing. Sometimes there are so many options, and you begin to second-guess what will work best. Healthcare.gov encourages you to connect with an insurance broker in your area to ensure you are finding plans that meet your needs at price points you can afford. Using a broker should be free. The broker is paid after you input their assigned ID number into the system.
The Cost of Choosing Nothing -- Unexpected medical events are shocking in and of themselves. Many uninsured individuals or families experience financial ruin in the aftermath of such events. ACA-compliant plans offer full coverage, but that comes at a price that some either can't or aren't willing to pay. The federal government is supposed to impart tax penalties for those that don't purchase insurance. That process has become hotly debated. The number of exceptions continues to go up, and the courts may overturn the law.
What's the good, bad, and the ugly of the Affordable Care Act now that we are eight years into it? To read more in-depth information about the pros and cons, visit The Balance.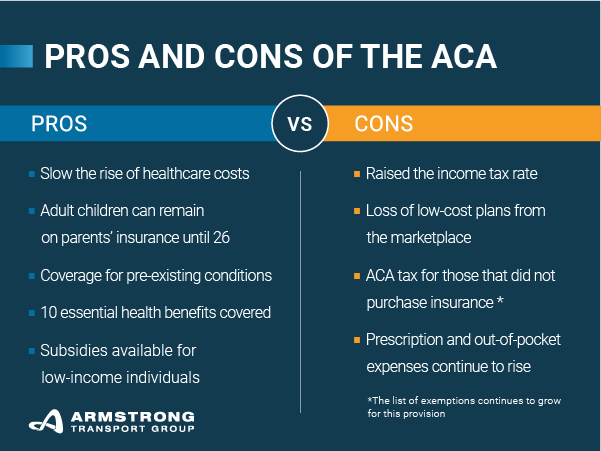 Employer-Sponsored Health Plans for Contractors
Offering a traditional employee-sponsored health plan to 1099 contractors can be a tricky proposition for employers. This extension of benefits may legally change the relationship from a contractor to an employer/employee relationship. Cost and plan maintenance is also a consideration, especially as gig workers come and go. However, there are options, and an increasing number of organizations recognize the benefits of extending benefit options to their contracted workers.
Limited Access to Group Plans
Plans like supplemental insurance, cancer plans, hospital indemnity coverage, and life insurance are available to many contractors. Companies like Aflac and Metlife typically offer these plans. While they are not a replacement for ACA-compliant plans, they can bridge the gap for those without insurance. These limited plans are also portable, meaning they can follow the contractor when they leave their current role.
Employer Connects Contractors To a Broker
In this scenario, a broker operates a marketplace and offers insurance options to contractors directly. The independent contractor, not the employer, pays for the insurance. As in the previous scenario, these benefits are portable.
Staffing Agencies
Under the ACA, temporary employees that are part of a staffing agency of at least 50 employees must be provided health coverage. In this capacity, workers get the flexibility to move between positions with the security of benefits in a competitive marketplace. Providing insurance to temporary workers can be a great way to attract and retain talent.
Fixed Indemnity Plans
Looking for the freedom to visit the hospitals and doctors of your choice, without committing to a network or primary care physician? Indemnity health plans approach medical expenses in a different way, giving the participants the autonomy to make choices about their own care.
A fixed indemnity plan – offered by organizations like The American Worker – pay consumers a fixed amount for each service, regardless of the actual cost of the medical care received. For example, a broken leg may result in a payout of $500. If that broken leg is considered a qualifying event or injury, the money paid out by the insurance company goes directly to you rather than to the doctor or healthcare organization providing treatment.
Additional perks built into this type of plan are things like unlimited telemedicine visits (that is what we all want during COVID anyway!) and reduced prescription costs.
Keep in mind that fixed-indemnity plans are not traditional major medical health insurance coverage like a PPO or HMO. They provide defined benefits, so you know your payout amounts upfront. While they do tend to have lower monthly rates than more comprehensive insurance plans, they do not meet the coverage requirements of the ACA. Research the plans and understand what your personal liability could be in the event of a prolonged illness or hospital stay.
Want to Learn More?
Armstrong recognizes that independent workers need affordable options to provide a safety net when it comes to planning for unexpected events. While the ACA helped reduce the nation's uninsured rate, premiums have been rising rapidly.
We are proud to offer all of our contracted agents, medical, dental, and vision benefit options. As you consider your next agency partnership, Armstrong would welcome the opportunity to connect and provide an overview of what makes us stand out from the crowd. Click here to learn more about our agent program!
About Lauren Russell
Lauren Russell serves as Armstrong's Chief Marketing Officer. Originally joining the team in 2012 to focus on human resources and recruiting, Lauren recently transitioned to marketing, social media, agent relations, and event planning. She has over 20 years of experience in logistics and transportation.