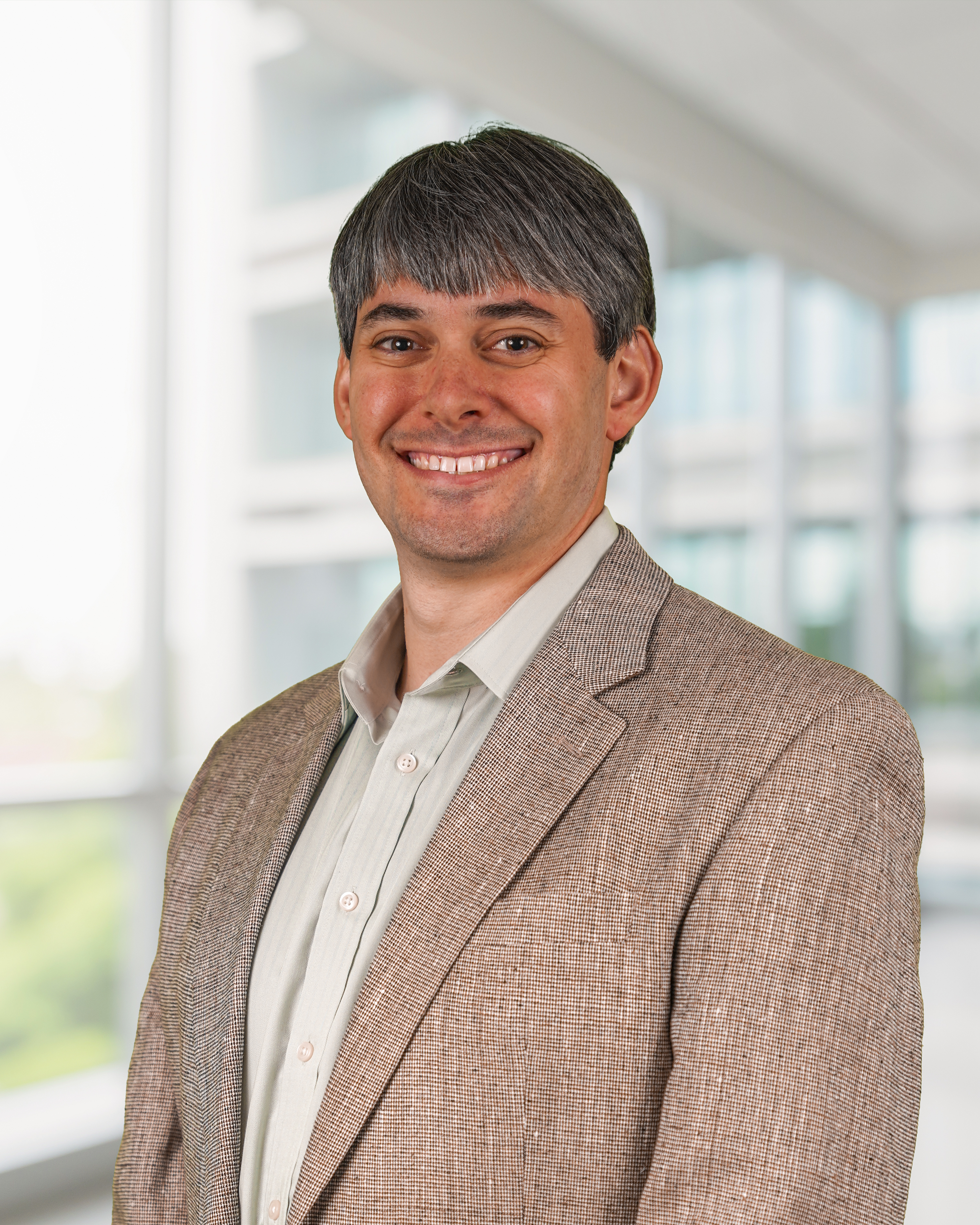 Market Insights: Will the Supply Chain Star in Summer's Next Horror Movie?
Industry News | Logistics | Transportation | carriers | Freight Management | Shippers | Freight Broker
Consumers are still spending – at bars, gas pumps, and the grocery store – showing resilience despite June's inflation surge. But consumer confidence appears to be waning. Increasingly, households are concerned that rising inflation will outpace their paychecks and drain their savings accounts. There's a lot of talk about whether the U.S. is already in a recession or will enter one in the next year, which had us asking: who makes the final call? Turns out, there's a committee for that. But even they admit that it's tough to accurately decide when recessions begin and end. At least that leaves room for everyone else to share their expertise and opinions!
Speaking of differing opinions, union workers and railroads are at odds over low pay and dismal working conditions. Seeing no progress during nearly two years of negotiations, rail workers claim to be at their boiling point, threatening a strike or lockout. According to the U.S. Chamber of Commerce, that would be "disastrous." Top it off with truckers protesting in California over AB5 legislation, and we have ourselves the makings of a summer horror flick.
Read on to see how these events are impacting rates and logistics with data compiled from multiple industry sources.
Like what you're reading? Click Subscribe at the top of this post and receive weekly updates straight to your Inbox!
July Notables
Spot rates continue to slide.
Retail sales show the busiest June on record; however, accounting for the surge in prices, actual consumption looks to have been broadly stagnant in June.
Biden commissions Presidential Emergency Board for railroad union negotiations.
AB5: what is it, and what does it mean for transportation and logistics?
Looking to limit transportation disruptions? Connect with Armstrong for access to a network of more than 60,000 vetted, reliable North American carriers.
A Look at Rates
Dry Van
Dry van spot rates continued their downward trend after the Fourth of July holiday rush. According to DAT, equipment posts are up 31 percent compared to last week – the highest recorded number of equipment posts in July. DAT also recorded a 21 percent drop in load posts compared to this time last year. Linehaul spot rates are currently down $0.41 per mile compared to the previous year and about flat compared to the last month.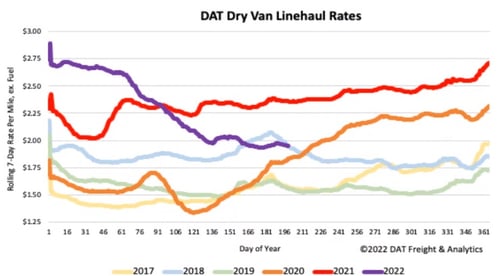 With the Fourth of July peak behind us, Armstrong expects dry van rates to hold flat for one to two months. Historical data – becoming more accurate as post-pandemic consumer spending reverts to services over goods – dictates that we will not see another increase until the end of September and early October as shippers prepare for holiday inventories.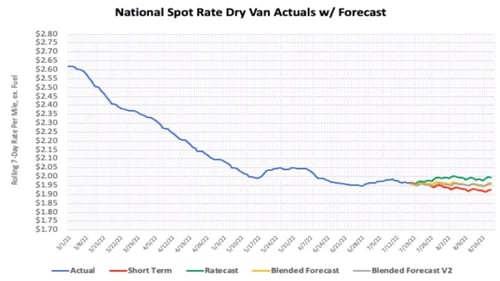 Reefer
Reefer rates continue their downward trend on the heels of the July Fourth push. DAT reports that produce volumes remain much lower than last year, with around 13,000 fewer loads per week. DAT also says that reefer equipment posts are at an all-time high for July. Reefer linehaul spot rates are now down $0.54 per mile compared to last year and about $0.05 per mile lower than the previous month.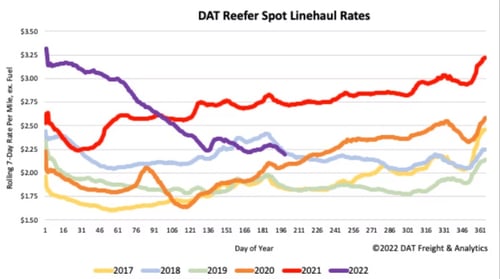 In the lead-up to the Fourth of July, the produce market experienced increased demand and showed signs of tightening reefer capacity. Following the holiday push, we expect reefer rates to flatten, possibly decreasing slightly. Historically, the Fourth of July is where we see peak rates in the reefer market until the tail end of Q4.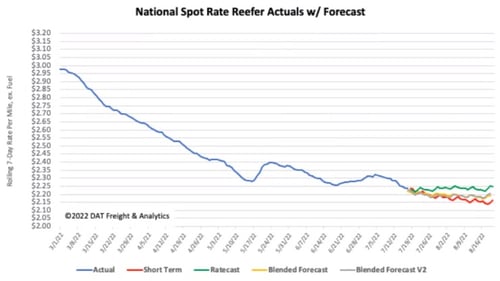 Flatbed
Flatbed spot rates have started to drop, down about seven weeks in a row. Flatbed load post volumes on DAT are down 12 percent week-over-week, creating a rapid loosening of capacity. Flatbed equipment posts are only one percent below the highest recorded levels on DAT in 2019. Flatbed linehaul spot rates are down $0.18 per mile year-to-date and $0.09 per mile compared to last month.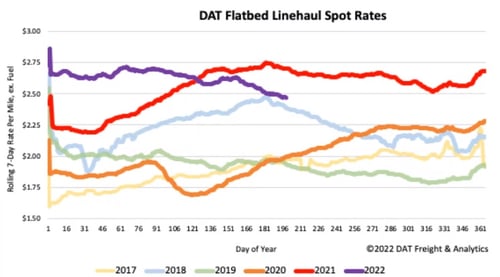 Similar to reefer rates, we expect to see demand for flatbeds decrease, which will cause rates to drop even further. Historically, flatbed rates peak on the Fourth of July and remain slower until the following year. Also driving the decrease in flatbed volumes is the retraction of the housing market. With the Fed increasing interest rates to deter a recession, the housing market has begun to cool rapidly. The decline is driving down demand for home goods typically moved on flatbeds.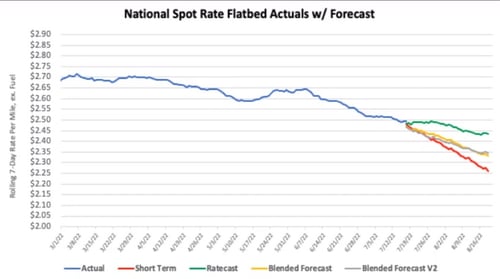 Imports
Import volumes from Asia are up 12.7 percent month-over-month making it the busiest June ever on the East Coast trade lanes. Port of Savannah is up almost 20 percent, and Port of Houston is up around 17 percent. The Port of New York and New Jersey unseated the Port of Long Beach last month as the leader in inbound container volumes. The east coast port increased its volumes 15 percent month over month.
Rail
President Biden recently commissioned a Presidential Emergency Board, effective July 18, 2022, to intervene in an ongoing dispute over wages, benefits, and working conditions between freight rail carriers and their unions. The conflict has continued for nearly two years. Union workers are requesting higher pay after being under immense pressure to keep up with unprecedented U.S. consumer demand for goods. Railways, meanwhile, are reporting record profits and looking to decrease the number of employees on each train from two to one. The railroads are pushing to remove the conductor position and instead run trains with only an engineer.
If the two parties cannot agree within 60 days, more than 115,000 union workers will likely strike, significantly impacting all major rail lines. The last strike, which occurred in 1992, lasted just two days but was estimated to cost Americans $1 billion per day (or $2 billion per day in today's dollars). The impact would quickly roll to trucking and have a devastating effect. Additional disruptions to the supply chain would only drive prices higher when many Americans are feeling the pains of an inflation rate now topping nine percent.
Fuel
Diesel prices are coming off an all-time high, where costs at the pump peaked at $5.81 per gallon in June 2022. National average diesel fuel prices were $5.57 per gallon as of July 11, 2022, according to the U.S. Energy Information Administration. Oil prices continue to bounce up and down as refinery costs remain high. If there are no significant changes to the supply chain, we can expect prices to continue their slow decline.
In the News: AB5
In 2019, California passed a law defining the difference between contractors and employees. To be classified as a contractor, the position must meet three criteria:
The person is free from the control and direction of the hiring entity, both in contract and in fact;
The person performs work that is outside the usual course of the hiring entity's business;
The person is customarily engaged in an independently established trade, occupation, or business of the same nature as the work performed.
The second clause is the most impactful as it applies to the trucking industry. The California Trucking Association reports there are 70,000 independent truckers in the California workforce. All 70,000 truckers are at risk because they will no longer be able to operate as an owner operator. They will be required to apply for their operating authority and insurance, which would be a significant cost increase for these individual workers. Many companies and drivers are now threatening to leave California.
Why Is AB5 Important Now?
In 2019, the trucking industry moved to be an exception to this law. California courts originally approved the exception but later appealed and overturned it in the California Court of Appeals. With the exception overturned, California trucking companies are no longer exempt from the contractor definitions defined in AB5. The trucking industry appealed the overturn to the California Supreme Court, which refused to hear the appeal. As of that refusal on June 30th, AB5 will be enforced for California truckers.
Currently, California-based truckers are protesting. They have blocked the two largest ports – Long Beach and Oakland.
Spread the Word
Like what you're reading? Check back with us monthly to stay up to speed on freight market conditions. Our snapshots compile market data from reputable public sources to help you stay informed.
Do you know someone in the industry who could benefit from a real-time snapshot and analysis of the market? Share this post or comment below - we welcome feedback from our community!
Subscribe to our blog today and get these updates in your Inbox.
About Brad Loeb
An expert in market trends, cost analysis, and rate/route selection, Brad serves as Armstrong's Director of Pricing and Analytics. He joined Armstrong in 2019, bringing nine years of experience in supply chain and operations management, with industry knowledge spanning warehousing, pricing, freight, LTL, and 3PL.