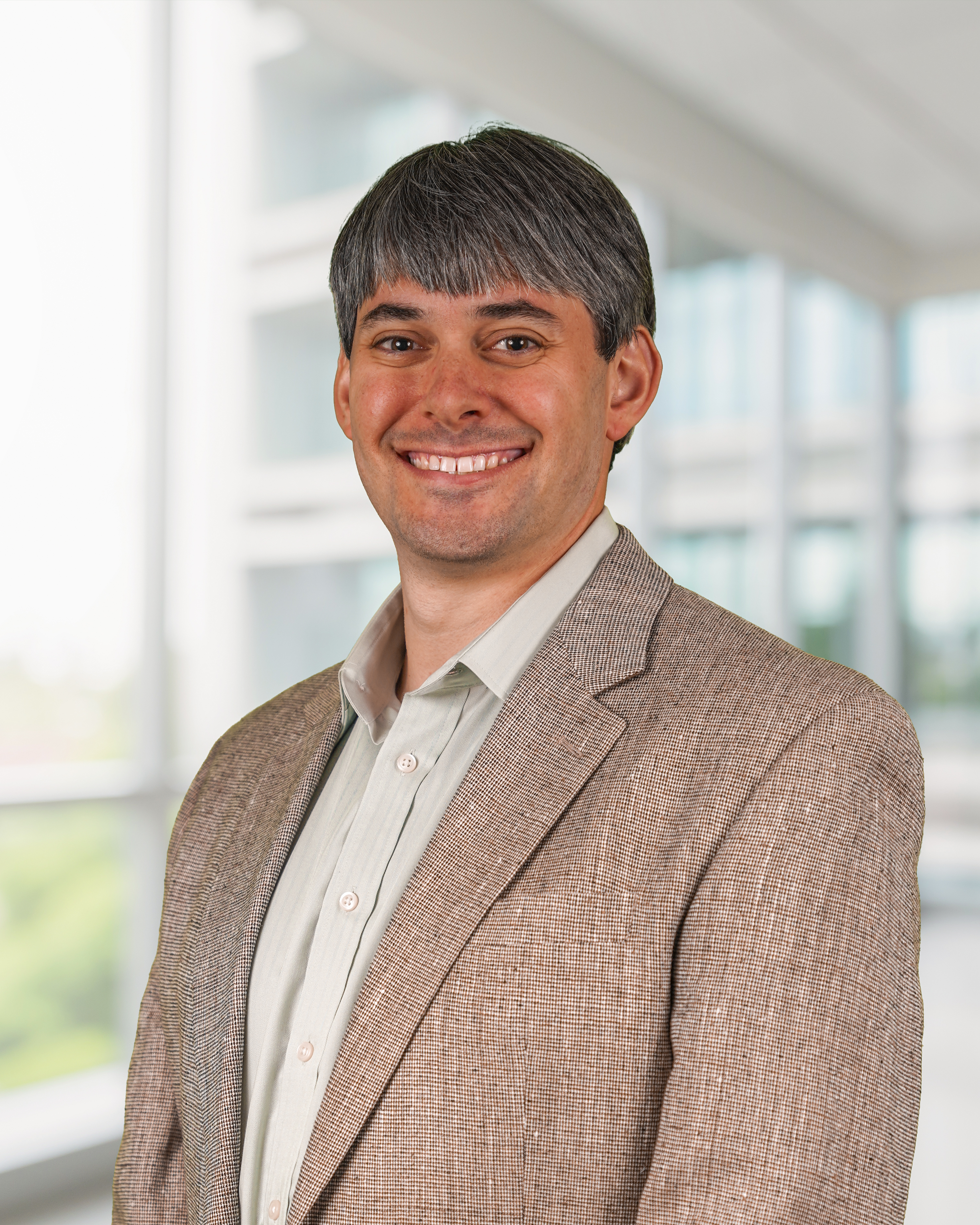 Market Insights: Love Is in the Air, but Rates Are on the Ground
Freight/Shipping Trends | Industry News | Logistics | Transportation | Freight Rates | News
As we enter the second month of 2023, the transportation industry is experiencing a mixed bag of good news and bad. Dry van loads have increased, but equipment availability remains high. Reefer volumes are down, while flatbed volumes are rising. Import volumes bumped slightly in January, but the situation looks grim for February. Additionally, the rail industry is expected to face market pressure, while fuel prices may remain high due to deferred maintenance work and the European Union's restrictions on refined Russian diesel.
In this blog post, we'll dive deeper into February's market insights, taking a closer look at rates, imports, and other factors impacting the transportation industry.
February Notables
Dry van load volumes increased

Reefer van load volumes decreased

Spot rates stay low

Imports continue their downward trend

Flatbed rates improve ahead of spring

Produce is starting to move in FL and GA
A Look at Rates
Dry Van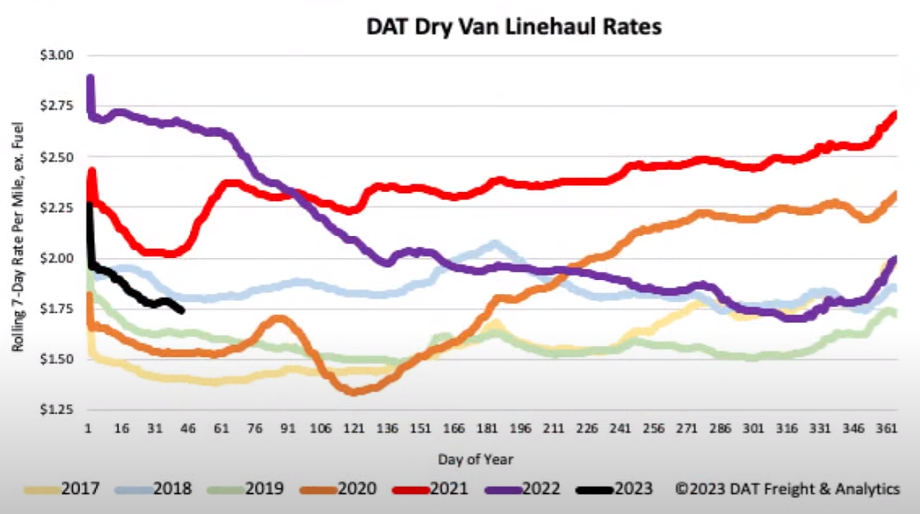 Dry van loads have jumped roughly 6% over the last month. This is about 30% higher than average over the previous six years. However, equipment posts on DAT have also continued to jump, keeping equipment availability near all-time highs. Volumes increased in the Southeast by about 3% month-over-month. Unfortunately, this slight increase has not impacted rates. Available capacity on the west coast remains high as imports continue to decline. On average dry van spot rates decreased $0.11/mile over the last month and are now $0.83/mile lower year over year, nearly a 30% decrease.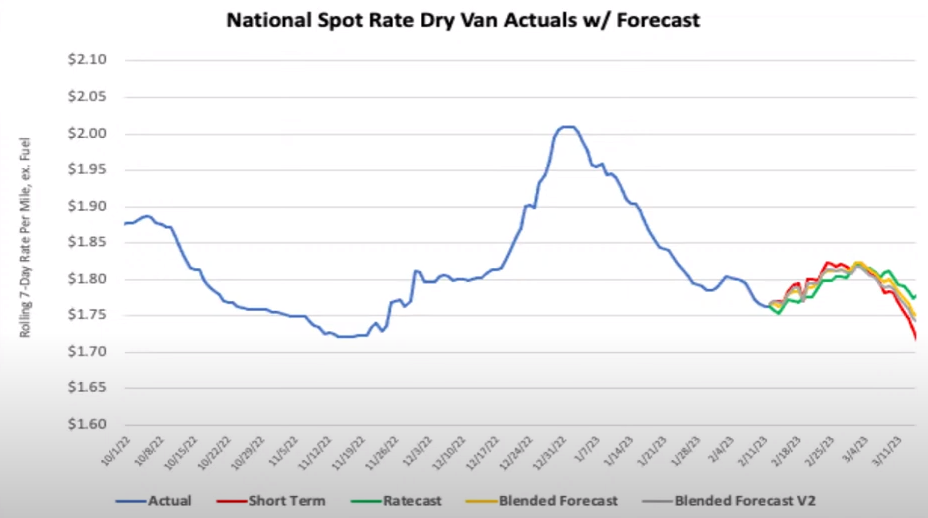 Similar to what we saw last month, the forecast predicts an increase in dry van rates during the second half of February. Unlike last month, the forecast is now predicting rates will drop going into March. We do not expect the market to completely follow the forecast this time around. It is more likely that rates will start to increase at the end of February going into March. We should see a few weeks of steady rates in March until the spring push, where rates increase through the summer due to produce season.
Reefer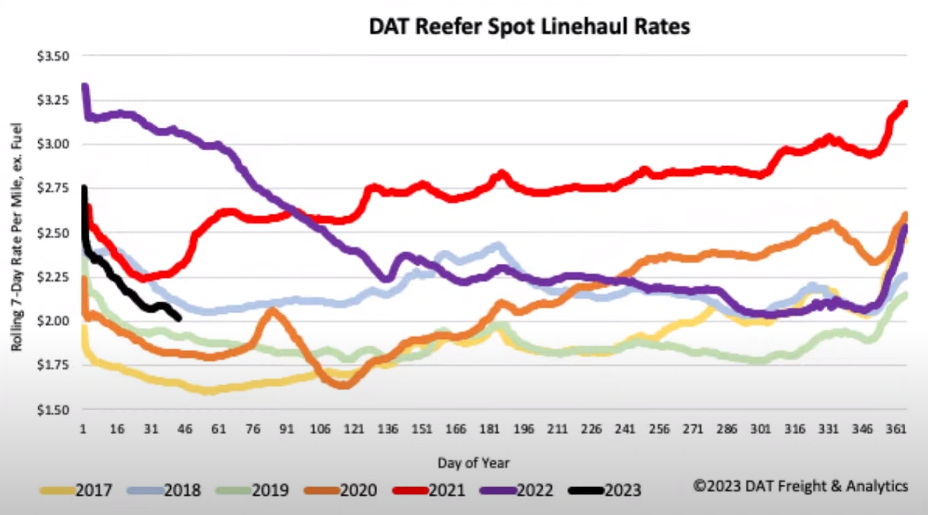 Reefer volumes are significantly down year-over-year, around 12% lower than this time in 2022. Reefer capacity continues to be readily available, with equipment posts on DAT increasing by 11% in the last week, breaking record-high postings over the previous seven years. Valentine's Day has helped increase rates in Florida by almost 20% (due to flower shipping out of Miami) while the rest of the country sees rates continue to decline. We expect that rates in the Southeast will continue to remain elevated through the Georgia and Florida produce seasons, which typically last through May. On average, reefer spot rates decreased $0.24/mile over the last month and are now $1.04/mile lower year over year, a nearly 32% decrease.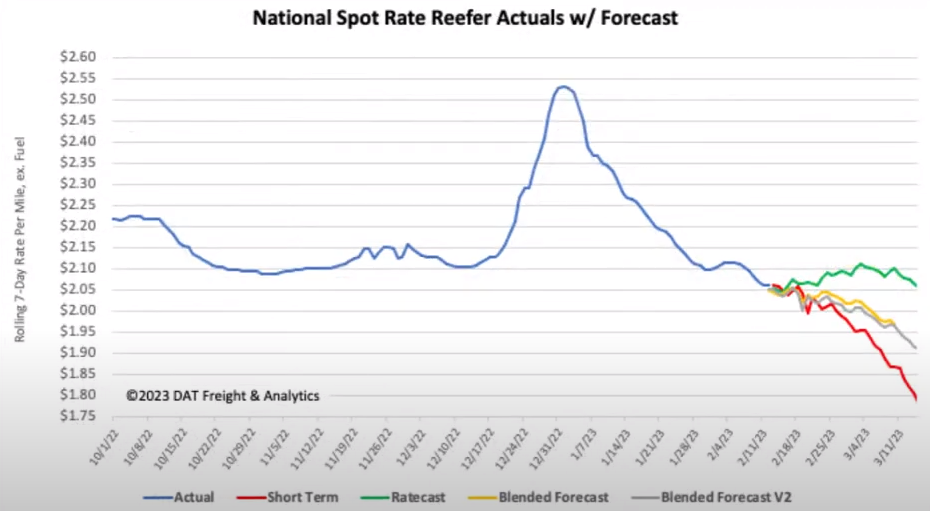 Weak volumes in the reefer market have the forecast showing considerable divergence. Historically speaking, reefer rates start to recover in mid-February and make a push through the summer. This year, due to weak demand, we can expect reefer rates to continue decreasing until March, when rates bottom out and make their spring and summer push upward.
Flatbed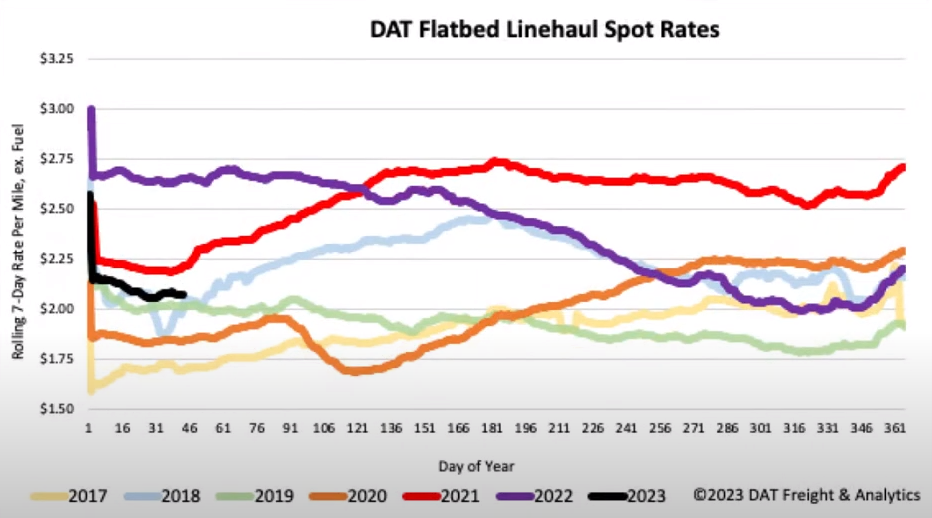 Flatbed volumes have now increased for three straight weeks. This is a good sign, but they're still 30% lower than the average of the last six years. Flatbed equipment posts on DAT are still at their highest level in the past seven years. Flatbed volumes in the Southeast and Texas are increasing at a steady rate. These two areas will likely remain the hottest places for flatbed activity for the next few months. Flatbed linehaul spot rates are up $0.02/mile over the last month, but flatbed spot rates remain $0.65/mile lower year over year.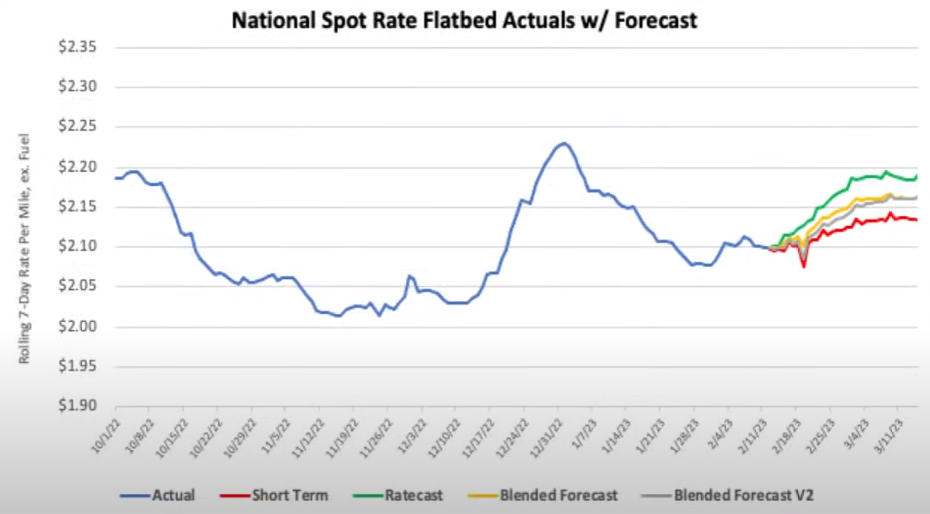 The flatbed forecast is much more bullish than the van and reefer forecasts. We believe these predictions should also hold based on the rising demand for flatbeds. Typically, we see flatbed demand pick up in March and spike through the spring as construction and other commercial works pick up.
Imports
Import volumes increased slightly in January, around 7.2%, compared to December 2022. The bad news is that January imports were almost identical to 2019 and 2020 levels; worse is that February looks to be the slowest month for imports since May 2020, which was the peak of the pandemic shutdown. February imports are tracking around 26% lower than this time last year. Port Tracker cut its projections for the first half of 2023 by an additional 3.5%, bringing their forecast of imports to 19.4% below 2022 levels.
Rail
Coming off a disappointing end to 2022, the rail industry's predictions for 2023 are still bleak. As over-the-road (OTR) prices drop, cost savings for using rail drop with them. This is on top of imports falling to a three-year low. Additionally, bulk goods such as coal and grain are expected to face market pressure, further lowering the railroad's ability to fill their trains.
Fuel
Diesel prices have continued to trend downward over the last month, dropping an average of $0.09/gallon. However, most experts expect diesel prices to remain high this year. The US has deferred important maintenance work on its refineries over the last two years due to Covid restrictions. Many US refineries will have longer than usual maintenance seasons this year for that reason and will, therefore, not be able to refine as much diesel.
We also expect diesel to remain high because of the European Union's restrictions on refined Russian diesel that started on February 5, 2023. The EU has been weaning itself off Russian crude oil and natural gas for a while, but finding replacement products is challenging.
Insights Straight to Your Inbox
As we've seen from this month's market insights, the transportation industry is continually evolving, with fluctuations in demand and supply across different markets. Overall, carriers and shippers should stay informed and adaptable to market trends to remain competitive in the transportation industry.
If you want to stay vigilant to market changes year-round, subscribe to our blog! Each month, we look at how the market is performing so you can stay ahead of the curve.
About Brad Loeb
An expert in market trends, cost analysis, and rate/route selection, Brad serves as Armstrong's Director of Pricing and Analytics. He joined Armstrong in 2019, bringing nine years of experience in supply chain and operations management, with industry knowledge spanning warehousing, pricing, freight, LTL, and 3PL.