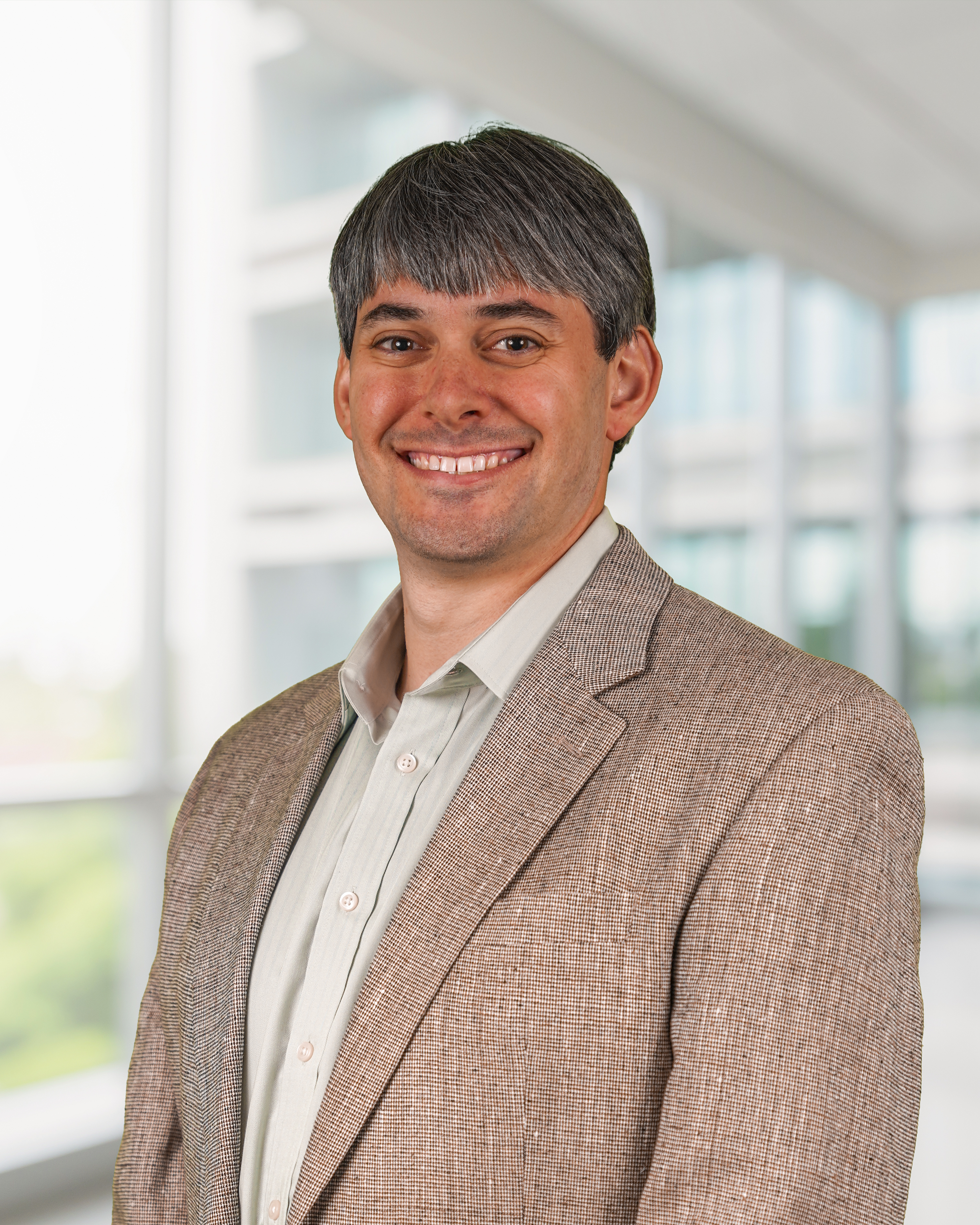 Market Insights: Will Christmas Be Canceled?
Industry News | Logistics | Transportation | carriers | Freight Management | Shippers | Freight Broker
Check back with us monthly to stay up to speed on freight market conditions. Our snapshots compile market data from reputable public sources to help you stay informed.
If you haven't started your holiday shopping, now is the time! With grandparents panicking that the shelves will be bare this holiday season, retailers are doing their best to stay ahead of demand. Many Americans report they will have the bulk of their shopping done ahead of Black Friday, if not by Halloween.
Consumer demand remains high, despite many items now being hit by inflation. Among the goods impacted are cars (priced 8.8% higher), electronics (12.7% higher), furniture (11.2% higher), gas (42.1% higher), and food (4.6% higher). Industry watchers report that many of these price hikes are due to rising costs of transportation.
President Biden is attempting to tame inflation by announcing that the Port of Los Angeles will move to 24/7 operations. Some analysts are skeptical of the plan's ability to ease congestion, citing an ongoing national truck driver shortage as the primary feeder for tight capacity and slowed operations.
Don't start panic-buying those Christmas gifts just yet! Read on for a high-level recap of what's happening in the freight markets.
October Notables
Port congestion continues to dominate the news. A recent oil spill off the coast of Los Angeles is adding more delays to vessels waiting at anchor. According to the Port of LA, the average vessel wait time is now 10.1 days (up one day since this time last week) for the

nearly 100

vessels waiting to unload.
The Pacific Northwest produce season has arrived, contributing to the capacity crunch that typically occurs this time of year.
Steel production is up 20% compared to last year.
Retailers are desperately trying to keep shelves stocked for the holiday season. We don't see a drop in demand any time soon, even with the surging COVID-19 Delta variant impacting many regions of the United States.
Like what you're reading? Click Subscribe at the top of this post and receive weekly updates straight to your Inbox!
A Look at Rates
Higher end-of-month volumes pushed dry van spot rates up last week by just over a penny per mile to a national average of $2.53/mile. Compared to the previous year's same week, dry van rates are still 12% or $0.30/mile higher.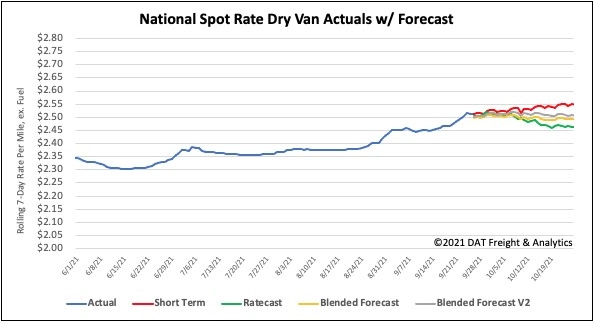 After a brief pause the week prior, reefer spot rates increased again last week by $0.01/mile to a national average of $2.86/mile, which is $0.49/mile higher than this time last year.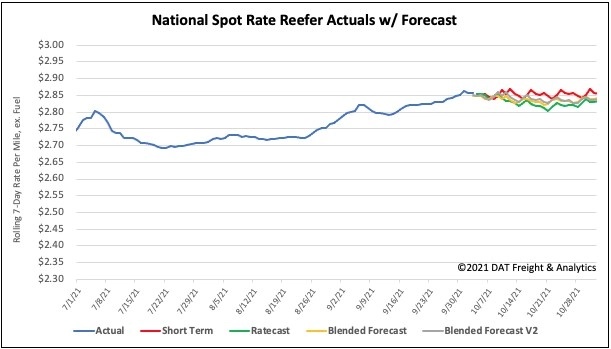 The flatbed national average spot rate remained flat last week at $2.66/mile. Spot rates are now 16% or $0.43/mile higher than the same week the previous year.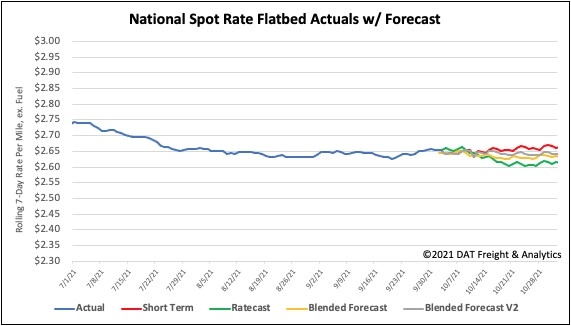 Where Are Rates Going?
Dry van and reefer spot rates nudged up a penny per mile while flatbed rates remained flat. Spot rates are staying at record levels and continue to go against seasonal trends as we start Fall. Supply chain disruptions, port congestion, semiconductor chip shortage for new trucks, and a lack of drivers moving loads during this unprecedented peak-shipping season keep rates and demand high. Some lanes are breaking weekly records, such as the Los Angeles to Las Vegas lane, where reefer spot rates broke $6.00/mile last week.
What to Watch
Fall produce is in full swing; you can expect a push of pumpkins out of IL, PA, IN, TX, and CA. Onions and potatoes are coming out of the northern states (ID, OR, CO, ND, and MI). Expect a Thanksgiving push on those items toward the end of this month.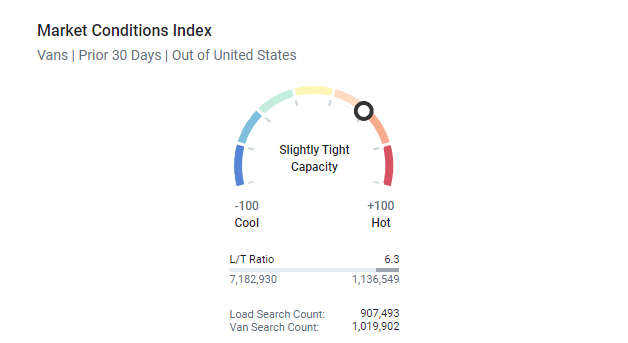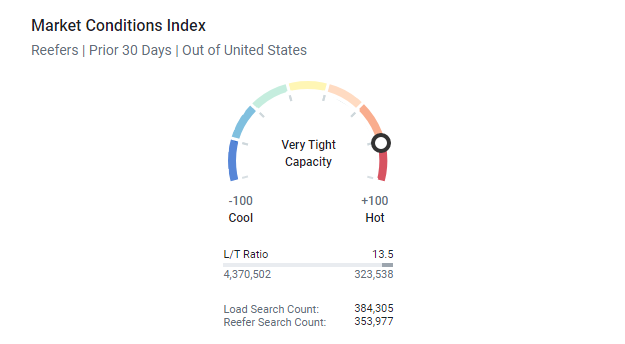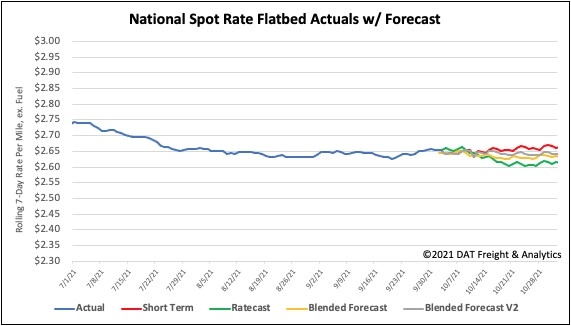 Spread the Word
Do you know someone in the industry who could benefit from a snapshot and analysis of the market today? Share this post or comment below - we welcome feedback from our community!
Subscribe to our blog today and get these updates in your inbox.
About Brad Loeb
An expert in market trends, cost analysis, and rate/route selection, Brad serves as Armstrong's Director of Pricing and Analytics. He joined Armstrong in 2019, bringing nine years of experience in supply chain and operations management, with industry knowledge spanning warehousing, pricing, freight, LTL, and 3PL.