While port congestion is nothing new, 2021 has seen record-setting backlogs in the flow of incoming cargo to the United States. Typically the slowest month for shipping, March was nothing short of madness, with west coast ports seeing unprecedented cargo volumes. Other U.S. ports, including Savannah, are seeing the residual impact from overflows at larger ports (Long Beach and Los Angeles), and it will likely be months before congestion shows any signs of easing.
In this post, we'll take a brief look at the reasons behind the backlog at America's largest shipping entry points, as well as the impact congestion has on truckers.
Blame It on COVID
While a worldwide container shortage was already in effect, the onset of a global pandemic didn't help matters related to port congestion. Stay-at-home orders and subsequent job loss created an initial economic shutdown that devastated international trade. In China, factories shuttered, and workers were unable to staff businesses. The flow of exports slowed considerably. For U.S. importers, getting goods out of China was a scramble. Mostly though, ports operated normally in terms of congestion.
Within weeks the pandemic wave hit the United States, forcing Americans to navigate stay-at-home-life. Facing high levels of uncertainty, U.S. consumers tightened their purse strings and bought only "essential" items. Consumer demand plummeted, and ports soon faced a new issue: a growing number of retailers canceling or delaying shipments into ports.
Chinese workers were meanwhile making their way back to work. With China exporting cargo amid decreasing U.S. demand, shipments continued arriving at American ports, and containers continued accumulating.
But then demand shifted again. Recognizing that life closer to home would be the new "normal," American consumers quickly transitioned away from services-related spending, like travel, restaurants, movie theaters, shopping centers, gyms, and sports events. Instead, they purchased goods online – items like food, fitness equipment, pet supplies, hair dye, board games, and bidets (you know, instead of toilet paper). Some of the hard-to-find items seemed a bit unbelievable. We'll give credit to toilet paper, Tylenol, diapers, and other household items, but demand for spiral hams, inflatable pools, and instant yeast? Nobody saw that coming.
The stop-start effect on spending was not only troubling for ports and retailers, but truckers too. With promises of a vaccine still many months away and an already aging driver workforce, the spread of COVID forced many truckers to reconsider life on the road. There simply weren't enough trucks to move the backlogged cargo, all of which brings us to the present day and a fractured supply chain.
Truckers Make Gains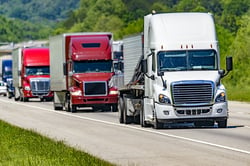 In part because of stimulus checks, consumer demand is now soaring. Yet, truck capacity continues to be tight, with ongoing port congestion and a driver shortage. Tight capacity puts pricing power in truckers' hands as spot rates and contract rates continue to rise.
Increasingly, shippers are looking for reputable, dependable drivers to move their freight in a market that's seen more than its share of volatility. Like Yellow (formerly YRC) and Old Dominion, many of the nation's largest carriers are focusing heavily on driver recruitment. According to this Freight Waves article, the average pay for new linehaul drivers will be $99,000, with pickup and delivery drivers earning $73,000 annually.
All Good News for Truckers?
Many truckers attest that the influx of demand and associated port congestion is not positive news for all drivers.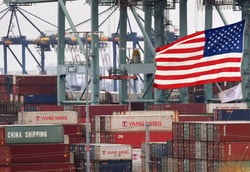 When cargo lands at the port, container lines urge cargo owners to pick up their containers promptly and return empty containers. To do this, cargo owners are tasked with finding truckers to haul their containers from the port to a warehouse or other location within a specified radius. This service, called drayage, is an essential element of an efficient supply chain because it helps cargo move smoothly toward delivery.
As we see in 2021, there are a few issues:
Declining overall numbers of truckers mean there are fewer trucks on the road.
Of the available drivers, all truckers must adhere to stricter hours of service (HOS) laws which means that more trucks are needed to haul the same amount of freight.
External factors like weather and congestion create longer wait times for truckers looking to move loads off docks.
In an industry where time is money, truckers cannot afford to miss out on opportunities to haul freight.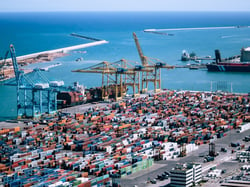 To incentivize faster cargo movement in and out of ports, ocean carriers and marine terminals typically charge fees. Demurrage fees are assessed for laden containers that sit inside of a port beyond their allotted times. Detention fees are assessed on containers outside a port, whether they are loaded or empty. As 2021 port congestion continues, detention and demurrage fees continue to rise, putting pressure on shippers to work with reputable and dependable truckers to facilitate faster transportation.
Please Hold. Your Shipment Is Important to Us.
According to industry watchers, port congestion is likely to remain an issue throughout 2021. According to an April 2020 JOC.com article, keeping the containerized supply chain flowing amid this environment of hyper-change, reflected by stop-and-go U.S. import flows, will take industry cooperation.
Recently, the U.S. Department of Transportation announced funding availability for the "Port Infrastructure Development Program" (PIDP). States and port authorities are encouraged to apply for $230 million in discretionary grant funding. As U.S. ports experience continued congestion, this action is expected to help alleviate stress on the supply chain.
Want to Learn More?
Armstrong Transport Group partners with more than 55,000 carriers to help shippers move freight to its final destination. In our 15th year of business, Armstrong Transport Group provides timely, reliable pay to carriers on thousands of loads.
Looking to get set up to haul for Armstrong? Visit https://www.armstrongtransport.com/carrier-services to learn more or access MyCarrierPackets for same-day set-up.