How Do Shippers Find Reputable Freight Brokers?
Insider | Business Advice | Logistics | Transportation | Best Practices | Freight Management | Freight Broker
Are you a transportation manager looking to connect with a freight broker but don't know where to start?
Figuring out how to move goods from one destination to another can be difficult. Not only can shipping represent a significant expense for your business, but it can be the difference in how your customers receive and first experience the product you've sold. Add to that the hundreds of options for shipping, and the process can quickly become overwhelming.
In this post, we'll cover questions to help clarify your shipping needs, answer some commonly asked questions about working with freight brokers, and offer tips to alleviate some of the pain points you may be experiencing during the shipping process.
Covering the Basics
Before you get started on your search, be sure to think about your specific shipping needs. What does your organization value most when it comes to shipping? Some of your priorities may be flexible, while others might be non-negotiable. While this is not an exhaustive list, here are a few points to consider:
Size and Scope of the Business: Are you currently a start-up working to establish your customer base and shipping just a few packages a month? If so, a freight broker may not be a good fit until your volume increases. Instead, services like UPS, DHL, FedEx, and smaller regional shippers might be able to offer competitive quotes. If UPS and FedEx quotes are too expensive, contact brokers that provide less-than-truckload services. We will cover more on that below.
Suppose you are a small or midsize business shipping hundreds of packages or multiple pallets a week. What type of volume will you be shipping, and how frequently or consistently will you be running the same routes? You will likely benefit from working with a reputable freight broker for higher volume shipments to take advantage of volume rate cuts.
Shipping Objective: When it comes to shipping your goods, what are your highest priorities? For some organizations, cost and reliability of delivery are most critical. Other businesses may need to focus on the safe transportation of goods. Establishing your requirements up-front is essential to finding a broker who will meet your needs. Many shippers outline specific metrics to help measure the performance of brokers and carriers. These might include on-time pick-ups and deliveries, tender acceptance rates, and proof of delivery (POD) retrieval.
Shipping Destination: Beyond knowing where you need to ship your product (e.g., locally, within the lower 48 states, across international lines), you will also want to consider the size of your receiver. For example, will you deliver to a small business with flexible processes and receiving hours? Or will you be shipping to a large distribution center with rigid receiving appointments and high chances of long wait times?
Required Capacity: How much of a truck's capacity will you need to ship your freight? When shipping full truckload, your shipment is the only freight moving on an individual truck. Even if you don't fill the entire available space on the truck, you have exclusivity and can reserve the truck with its full capacity. Alternatively, less-than-truckload (LTL) options often accommodate shippers with lower volumes. In this case, the truck hauls multiple shippers' freight together on the same trailer.



You will also need to know which mode of transport your shipment requires—for example, flatbed, dry van, or reefer. There are also food-grade and hazmat options.

While it's not definitive for every case, the following graphic can help give you an idea of which mode of transportation will work best for your current shipping needs.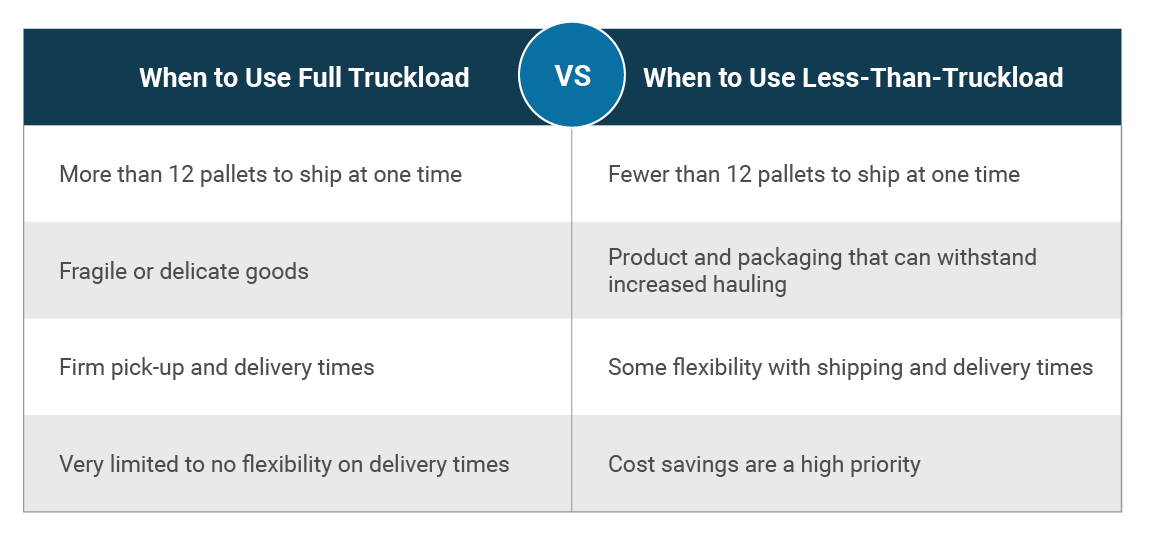 Let's now assume that you're ready to move forward with finding a reputable freight broker.
How Do I Search for a Reputable Broker?
With thousands of brokerages in the U.S. today, finding a good fit can be a daunting task. You can start with lists like Transport Topics' Top 50 Freight Brokerages. Armstrong Transport Group is listed in the top 25.
A Google search will help you look for relevant logistics services in your area. Reputable carriers will be glad to answer your questions and compile rates if it means earning your business. You'll also want to check MC numbers for safety records. SaferWatch and Carrier 411 both offer services to help with compliance and monitoring.
Realistically, this research can be time-intensive. Many shippers don't have the bandwidth to reach out to 3 – 5 local trucking companies each week for competitive quotes. This is why brokers exist. They provide one point of contact, offering additional buying power and relationships with a network of carriers. Brokers also manage all of the required paperwork for loads, pay for and use load boards, and oversee MC number safety checks, insurance, check calls, capacity, and industry trends.
Are There Downfalls to Using Big Versus Small Brokers?
The size of the brokerage matters less than working with a brokerage you trust. The broker you work with should understand and manage your business' specific pain points and needs.
There can be some value to using either size broker. You might consider:

Developing a Trusted Relationship with Freight Brokers
It's relatively easy to start a freight brokerage because the barriers to entry are low. However, partnering with a broker that has a proven track record can save you significantly on time and cost. For example, more established brokerages can pay carriers faster and extend bigger lines of credit.
As with most relationships, you'll never know until you try. Doing upfront research can certainly help narrow your options. Some brokers may be able to answer all of the questions you ask and provide competitive rates (not the least expensive and not the most expensive). But, because of the relationships they have with carriers or the pressure they get from their company to make certain margins, they may end up failing you.
Many shippers build relationships with a small group of brokers they trust. These relationships do take time to develop, but they allow you to send all of your requests in one direction with the ability to compare rates.
Want to Learn More?
For more than 15 years, Armstrong has been a trusted, leading brokerage for shippers across North America. We've established this trust by extending the highest service levels to all of our customers – shippers, carriers, and freight agents alike. We continue to develop relationships with our extensive network of carriers by ensuring that we pay them quickly and reliably. In an industry known for constant change, we make every effort to keep our promises to those we rely on to get a job done. When circumstances arise that are out of our control, we prioritize transparency and communication.
As you conduct your research, consider adding Armstrong Transport Group to your list of brokerage options. Reach out to Armstrong today to learn more about our services for shippers, request a quote, or connect with a broker.
About Lauren Russell
Lauren Russell serves as Armstrong's Chief Marketing Officer. Originally joining the team in 2012 to focus on human resources and recruiting, Lauren recently transitioned to marketing, social media, agent relations, and event planning. She has over 20 years of experience in logistics and transportation.