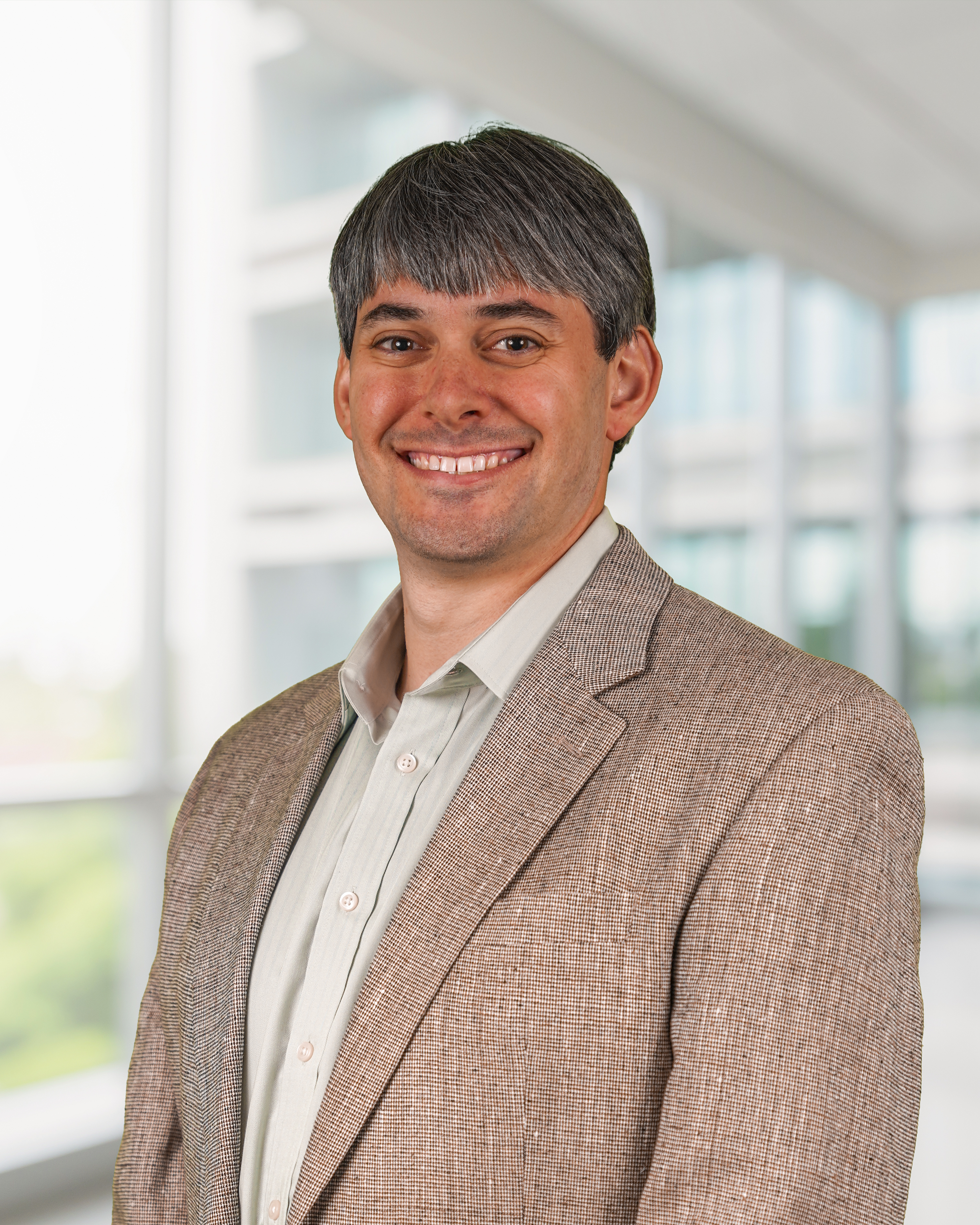 Market Insights: High Volumes and Tight Capacity Unlikely to Ease in 2021
Industry News | Logistics | Transportation | carriers | Freight Management | Shippers | Freight Broker
Check back with us monthly to stay up to speed on freight market conditions. Our snapshots compile market data from reputable public sources to help you stay informed.
It's a shame we don't have Punxsutawney Phil's shadow to predict supply and demand. Then again, the trend seems to be consistent in 2021: high demand, wavering supply, and limited capacity to make ends meet. Same story, different day.
It's August of a year that's seen its fair share of exceptional market situations. COVID-19 continues to take a toll on the world's busiest ports. Inclement weather and natural disasters will have an inevitable impact on local and national economies. And companies across all industries are still struggling to respond to market dynamics – do you increase production to meet demand, or do you allow the order backlog to grow and meet demand based on current capacity? SupplyChainDive provides some insight in a recent article, an interesting read ahead of the holiday rush.
This edition of our market insights looks at load post volumes and rates in the past month, how intermodal capacity is suffering, and what organizations like the Commercial Vehicle Safety Alliance are doing to continue to help keep our roads safe.
But first, a high-level recap of what's happening in the market:
August Notables
Spot rates remain flat.

July imports increase 20% year over year.

Vessels in the port of LA are back to record levels.

Intermodal capacity is overloaded and has flooded rail yards.

Next week – August 22-28, 2021 – is Brake Safety Week!
Read on for additional insight into these numbers and current events!
Will Demand Ever Ease?
Spot rates are hitting new all-time highs for both reefer and van shipments. However, demand for reefers is expected to ease in the coming months, according to DAT. Between July 4 and Thanksgiving, weekly truckload volumes of produce typically decline an average of 21%, which translates to carriers hauling 7,300 fewer truckloads per week by the end of November. Then again, 2021 has been anything but typical.
How Port Congestion Impacts Intermodal
The ports are jammed up again with ships at anchor on the West Coast, rivaling the record-breaking vessel traffic in February. Supply Chain Brain recently interviewed John Martin, president of Martin Associates, for his perspective on the issue.
While Martin focuses on the inability of inland warehouses and rail terminals to handle the surge of freight brought on by unanticipated levels of demand coming out of the COVID-19, others point to yet another primary Chinese port closure as a prevalent issue.
Regardless, these backlogs do nothing to help retailers plan for the upcoming holiday season, not to mention the impending threat of hurricane activity through November 2021. Intermodal overflow will hit the over-the-road (OTR) market soon, increasing pressure on OTR capacity.
Load Post Volumes and Spot Rates
Dry van volumes and truck postings have been flat over the last month. Dry van rates have increased slightly over the last month but have recently flattened out. This is despite volumes and available trucks staying level. Spot rates are still $0.44 higher than last year.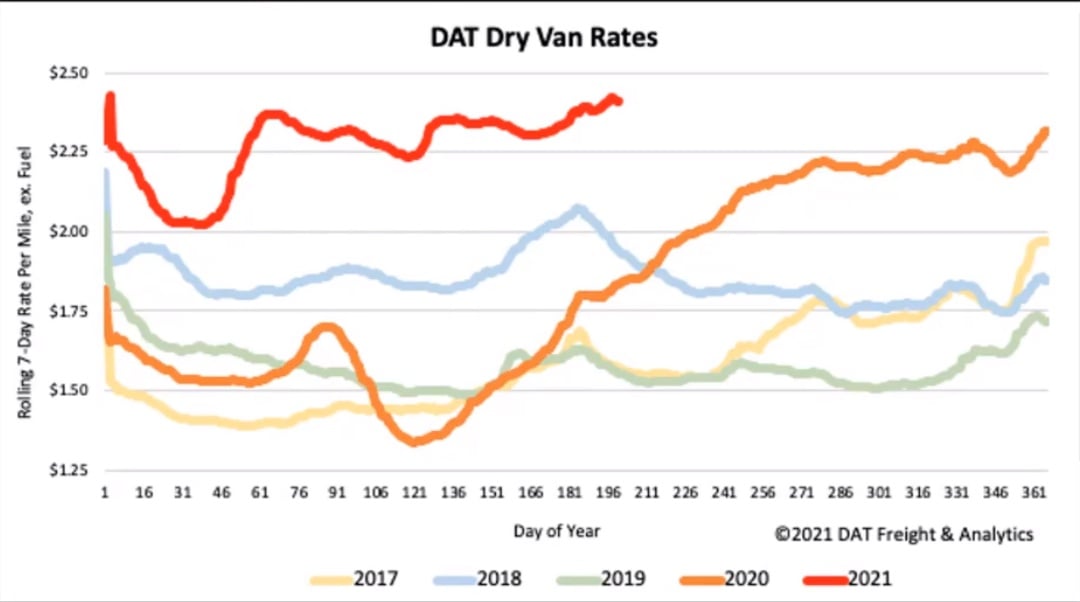 Reefer volumes and truck postings have been flat over the last month. Reefer rates have also remained flat, with a decrease of less than $0.01. This is in line with the volumes and available trucks staying level. Spot rates are still $0.58 higher than last year.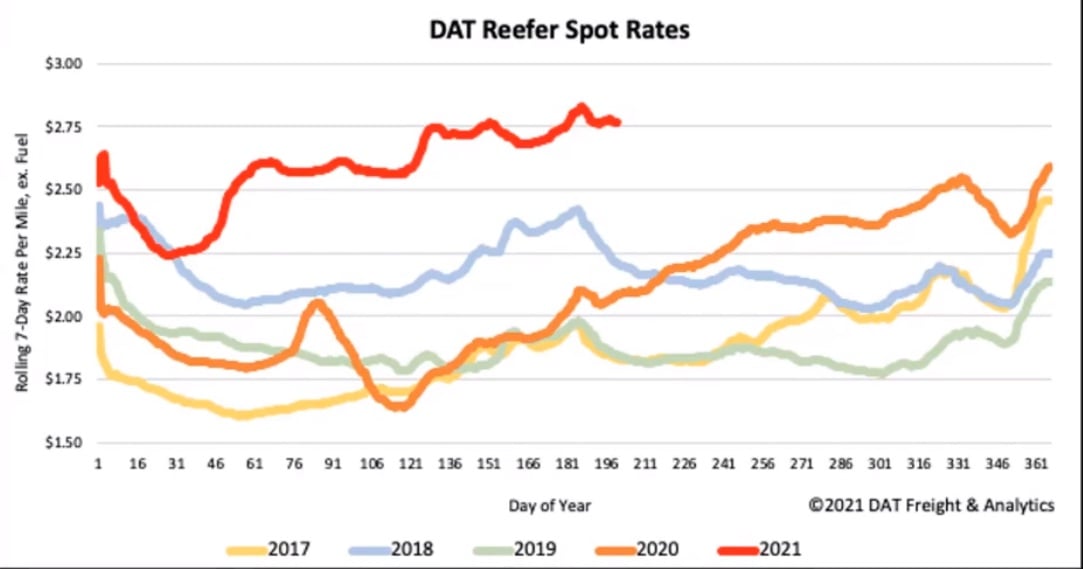 Flatbed load post volumes continue to decrease by about 3% week over week. Flatbed rates remain relatively flat, with just a slight decrease over the last month. Rates are finally catching up to the lower level of volume in the previous two months, down about $0.08 in the last 60 days. Spot rates are still $0.59 higher than last year.
Where Are Rates Going?
We expect dry van and reefer rates to increase into September, which means we have still not seen the ceiling of peak rates. On the other hand, we expect flatbed rates to continue their downward trend. As the housing boom decreases, we do not expect flatbed rates to challenge the records from a few months ago any time soon.
What to Watch?
The Commercial Vehicle Safety Alliance (CVSA) Brake Safety check is next week. Expect rates to jump from August 22 thru August 28 as capacity drops. During last year's Brake Safety Week, 12% of the 43,565 commercial motor vehicles inspected were placed out of service for brake-related violations.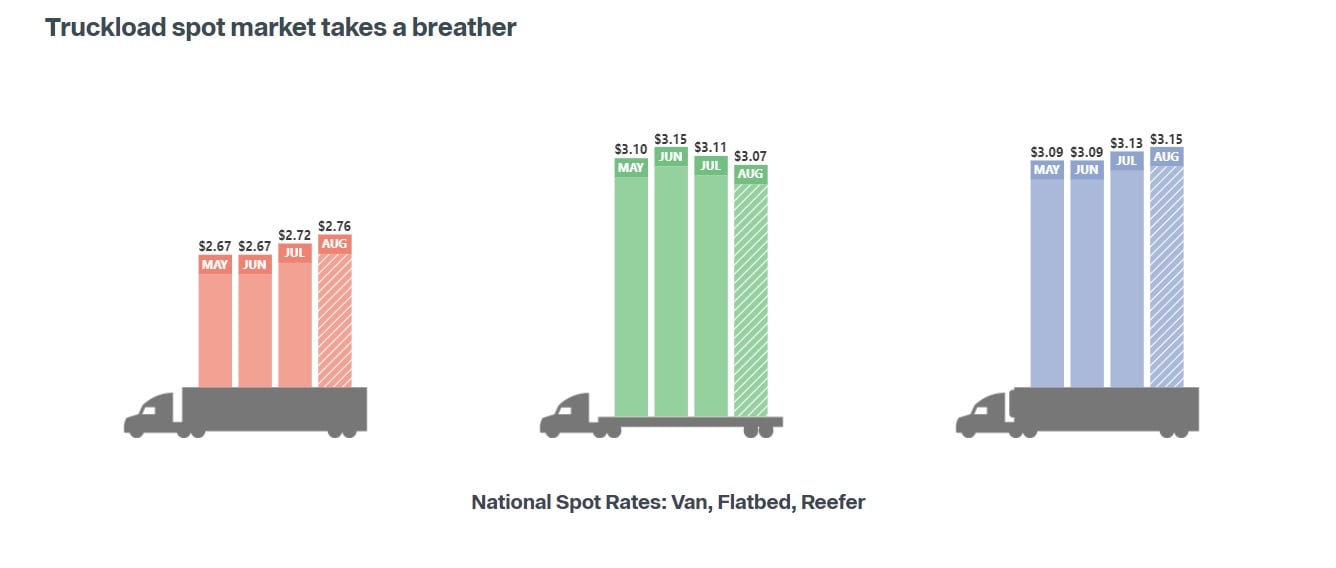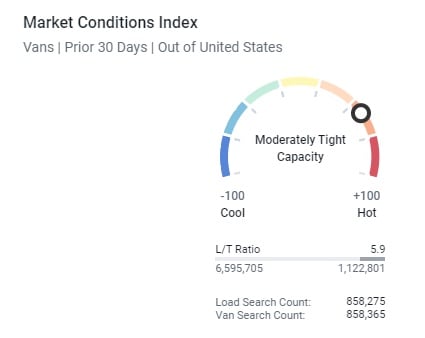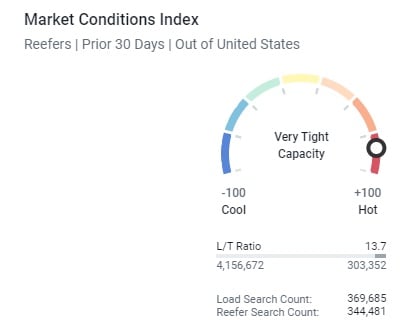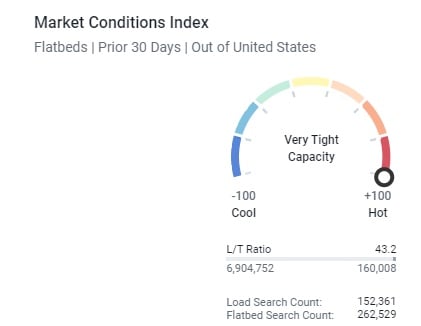 Spread the Word
Do you know someone in the industry who could benefit from a snapshot and analysis of the market today? Share this post or comment below - we welcome feedback from our community!
Subscribe to our blog today and get these updates in your inbox.
About Brad Loeb
An expert in market trends, cost analysis, and rate/route selection, Brad serves as Armstrong's Director of Pricing and Analytics. He joined Armstrong in 2019, bringing nine years of experience in supply chain and operations management, with industry knowledge spanning warehousing, pricing, freight, LTL, and 3PL.